Old-fashioned tree swings provide an easy, inexpensive way to add more fun to your backyard. They can be simple to make and last many years, if you start with the right materials.
The video below explains how to make a wooden tree swing step by step. In fact, the process is so simple that you can do it with your kids…
Download the Plans Here Free
You may even have all of the building materials and tools that you need, in which case your DIY tree swing project will be free! All you need is a tall, sturdy tree branch.
The image on the left shows the dimensions required to hand a wooden tree swing. The example shows a tree branch which is 7 feet off of the ground.
The seat should hang approximately 18″ above the ground. You can adjust this height, depending on the height of your tree branch and whether kids or adults will use the swing.
How to Tie Tree Swing Knots:
Possibly the biggest question that people have about building a tree swing is how to tie strong and secure knots in the rope. This task is also a simple one. Lowes demonstrates how to do it in the video below:
Should You Buy or Make Your Wooden Tree Swing?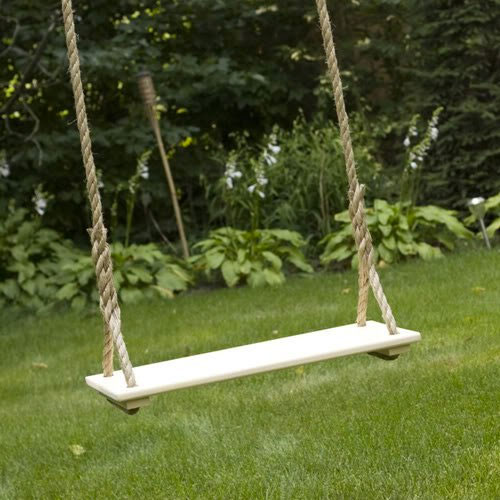 Alternatively, you can simply buy a wooden tree swing kit.
As you'd expect, these packages are typically more expensive.
However, you don't have to shop for building materials, cut, sand and stain the wood, drill holes or tie knots.
All of the hard work is already done for you. I'm OK with that. =)

Are Wooden Tree Swing Kits Worth the Extra Cost?
In short, the answer to this question will depend on your needs. If you like the homemade look but prefer to spend your afternoon doing something else, this swing kit gives you an option…
Most pre-made wooden tree swings are made with heavy-duty materials that require minimal (or no) maintenance and will stand the test of time. For example, this pre-built swing from Breezy Wooden Swings has the following advantages:
Rope features 3/4″ polypropylene with a 700 lb load capacity. Polypropylene resists UV sunlight and rot, so it will last many years. This type of rope holds up well in moisture (commonly used in marine applications, on ski slopes as swimming pool rope, etc..). Built-in eyelets make installation quick and easy.
Seat consists of strong Yellow Cedar wood. The 24″ x 9″ seat features splinter-free, comfortable and safe rounded edges.
Swing Weight Capacity: 250 lbs

4.7 rating