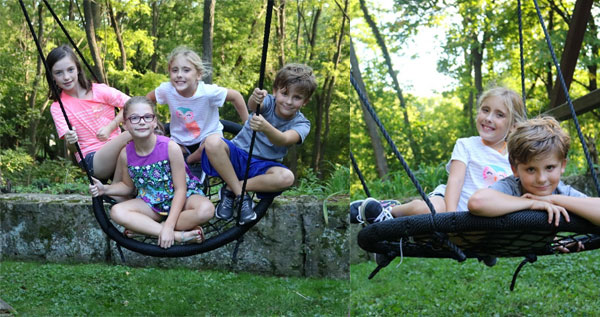 The Web Swing Can Do it All…
Similar to the platform swing, you can use the web swing in many ways. Kids can sit, stand out lay on it. In addition, multiple children can use it at one time (up to 4 kids). In fact, the seat can hold up to 600 lbs, so adults can use it as well.
Furthermore, you can set up the web to either sway back and forth or spin (or both!). The design lets you attach the swing from one point or two.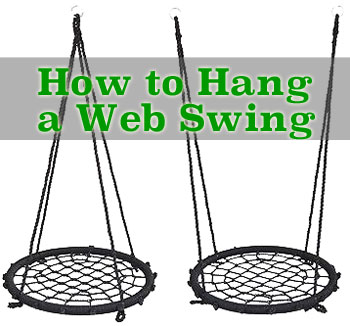 Push the web swing in virtually any direction or even push it around in circles. The large size of the web is spacious enough to actively play on or lay back and relax on. Consequently, this is not a backyard toy that kids tire of easily.
And this is good news, because the powder-coated steel frame with tight-weave UV-resistant polyethylene rope will last many years.
What's the Bad News?
The bad news is that this package does not include tree straps (although it does come with steel monster clips at the end of the hanging ropes). That said, you may not need the tree straps if your branch is lower to the ground.
However, if you do need a way to attach the web swing to a tree branch, You can get the optional Tree Strap Kit. It's easy to set up, inexpensive to buy, is super secure and durable and can handle heavy loads.
Specs for the Web Riderz Outdoor Swing 'n Spin:
Dimensions: 39″ diameter, 64″ hang
Swing Weight: 14 lbs
Weight Capacity: 600 lbs
Minimum Recommended Play Area: 15 feet
Recommended Age: 5 and Up
Model: #MM00124

4.8 rating
Below is a short 10-second video clip showing the web swing in action. Although it's short, you can see the size and strength of the design.