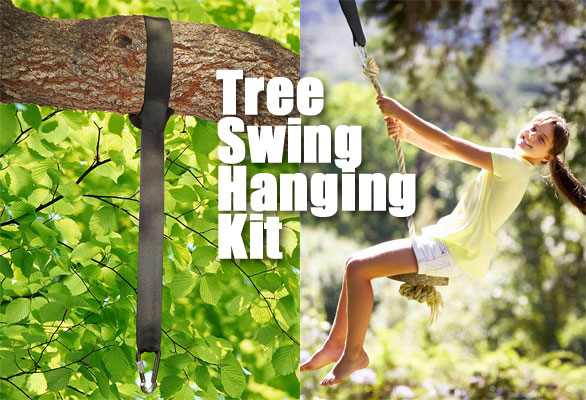 Making a tree swing (or simply hanging one) may be a lot easier than you think. That is, with the $15-$20 tree swing kit from Royal Oak.
Setting up a tree swing in your backyard can not get much easier with this simple gadget. It makes installation effortless, and it's budget-friendly too.
Getting a Tree Swing Kit vs Doing-it-Yourself.
Why purchase a hanging kit when you can make your own?
1. The industrial-grade 100% waterproof nylon strap is heavy duty. Each strap holds up to 1,000 lbs. It is designed to hold up in all sorts of weather and will last a long time without any maintenance or cleaning.
2. The 2-inch strap is wider than many tree-hanging ropes, and the flat design prevents damage to your tree. Coincidentally, this construction also results in a smoother ride.
Royal Oak Tree Swing Hanging Kit Specs:
Length: 4 feet
Material: Heavy Duty, Commercial Grade Nylon
Includes Steel Screw-Lock Carabiner
Weight Capacity: 1,000 lbs

4.5 rating
Other Ways to Use Swing-Hanging Straps?…
Of course, a tree swing kit can be used to hang many styles. For example, you can attach spinner swings, tire swings, web swings, platform swings, hammock swings and more.
In addition, you can purchase 2 straps to hang traditional wooden swings, porch or patio swings, seats for toddlers and more.
Using a Tow Strap to Hang a Tree Swing:
Alternatively, you could buy a tow strap instead of a tree hanging kit. These typically run between $15 and $30 and support upwards of 10,000 lbs. This video explains how to attach it and use it with your swing. The DIY Network also shares instructions on how to use a simple rope to hang a tire swing (cheap).
Get a Tow Strap Here