The Teardrop Hanging Chair is more than just a tree swing. This hanging chair, teepee, tent, swing or whatever – gives you a little bit of privacy, shade and room to lay down.

The Tree Swing for Kids AND Adults
With such a versatile piece of furniture (or toy?), it's no wonder that kids love them, adults love them and even pets want to climb in them.
The peaceful, inviting and relaxing Teardrop swing is not only comfortable – it looks really cool hanging from a tree. It gives you a great spot to read, nap, talk on the phone or work on the computer.
Note: I think that this tree swing is great because you can wash it. Plus, the durable mesh fabric resists UV rays and holds up well in weather.
Of course, kids can play in it too. In fact, you may want to consider getting two of them. I mean, they come in 12 different colors. What could be more fun and look cooler than a few Teardrop Hanging Chairs suspended from your backyard trees?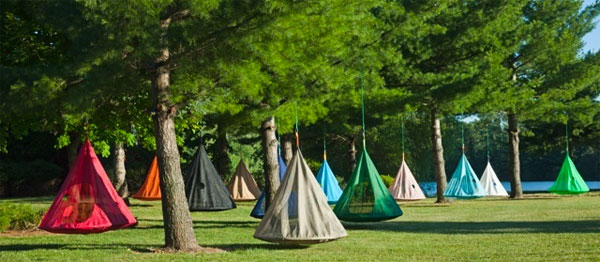 Need Extra Backyard Seating?
Plus, the Teardrop Hanging Chair works great if you need extra seating, whether from a tree, a porch or indoors. You can even take it with you camping. It comes with it's own convenient carrying bag.
How to Hang the Teardrop Chair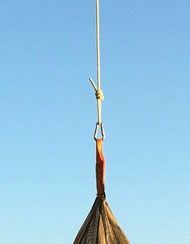 The swing comes with plenty of rope and a strong stainless steel carabiner with which you can hang it from a tree. You don't need to buy any other equipment to hang your swing. That said, if you want, you can get a tree hanging kit, which will protect the branch/bark.
Besides being easy to set up, this cool tree swing is low maintenance, easy to clean, move and you can take it with you on trips. I think this set-up offers a great value, plus you can get it on sale now.
Teardrop VS Cacoon Swing…
This unique tree swing actually closely resembles the Cacoon Hanging Chair in its shape, size and design. However, it has a much cheaper price.
The video below demonstrates how the Cacoon works, so you can get an idea of whether or not you'd like this type of swing…
Teardrop Hanging Chair Specs:
Dimensions: 5 feet tall x 5 feet diameter
Weight Capacity: 450 lbs (from manufacturer)
Material: Weather-Resistant, UV-Resistant Mesh Fabric
Weight: 16 lbs
12 Colors: Black, Blue, Cloud Blue, Dark Blue, Red, Orange, Bark, White, Light Green, Dark Green, Candy, Striped
Includes: Stainless Steel Carabiner + 26 feet of rope + Storage Bag