The Tarzan Tire Swing is a modern version of the traditional tire hanging from a tree. Kids can sit on it, lay on it or stick their legs through the middle.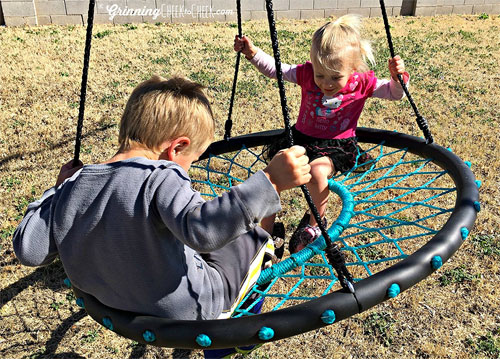 What Can the Tarzan Tire Swing Can Do?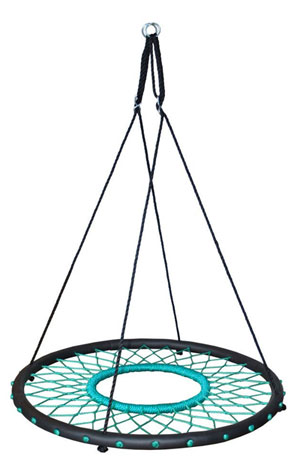 This highly versatile award-winning swing can hold multiple kids at once. This makes it super fun to play on. Even parents can swing with their children (swing capacity 250 lbs).
In addition, kids can swing, spin or twist on the Tarzan Tire. You can hang the swing from a single point or 2 separate points, depending on how kids want to use it.
It's actually a new "spin" on the web swing concept, except that it has a hole in the center where kids can swing their legs.
Tarzan Tire Goes Anywhere…
The Tarzan Tire Swing can hang from a swing set, a tree or even indoors. That said, choose a large rooms and allow plenty of clearance if you choose to use it indoors. Swing diameter is 40″ wide.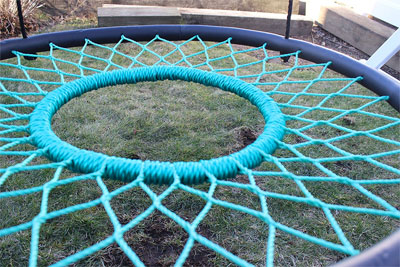 The package includes all of the hanging hardware you'll need to install your swing in minutes. Seriously.
However, if you want to hang it from your backyard tree, get a tree swing hanging kit. You'll get a super strong 4-foot strap plus a carabiner to support the swing (and protect your tree!).
The height of the swing itself is adjustable (65″ maximum height). This makes it a lot easier to hang from a variety of different locations.
Tarzan Tire Swing Specs: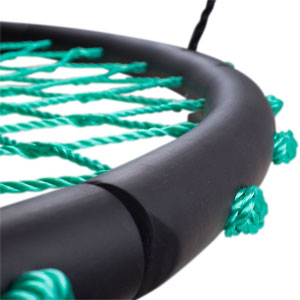 Dimensions: 40″ Diameter (outer edges), 15″ Diameter (inner circle)
Height: Adjustable to 65″ Maximum Height
Material: Padded Steel Frame, Nylon Webbing
Weight Capacity: 250 lbs
Swing Weight: 9.8lbs
Age Recommendation: 5+
Color: Black Frame, Green Webbing
Below is a short video clip of the swing in action. I wonder if the kids are having fun.