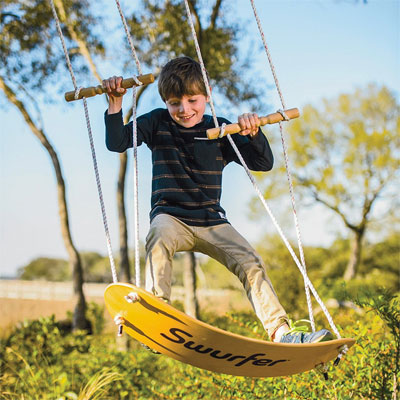 I love the Swurfer Swing. If you are looking for an out-of-the-ordinary swing that both kids and adults can use, you will probably like it too.
So, why do I like the Swurfer?
1. You Can Improve Your Board Sport Skills.
First of all, the Swurfer provides a very similar feel to surfing or skateboarding. People who enjoy these sports like this style of swing for that reason.
However, the Swurfer is much easier to learn than a surfboard or skateboard. Not to mention, it costs much less than a surfboard, and your risk of injury is significantly less than with a skateboard.
People use the Swurfer to improve core body balance and actually stretch and strengthen the muscles used in many board sports. Who knew a swing could give you a workout?
Improve your balancing and movement skills in all sorts of board sports, including wakeboarding, snowboarding, skateboarding and of course surfing. In addition, it makes a great learning tool for beginners because it helps to boost athletic confidence.
2. This Swing is Not Boring.
Second, this surfboard swing is versatile. Swing side to side, in circles or back and forth just like a traditional swing. Although most people stand on it while swinging, you can also sit on it.
Because the Swurfer allows you to swing in multiple directions, you will need a large amount of space. A taller tree will give you a bigger space to swing in (larger range of motion) and therefore make swinging or "swurfing" more fun. Check out this hanging chart for instructions on set-up: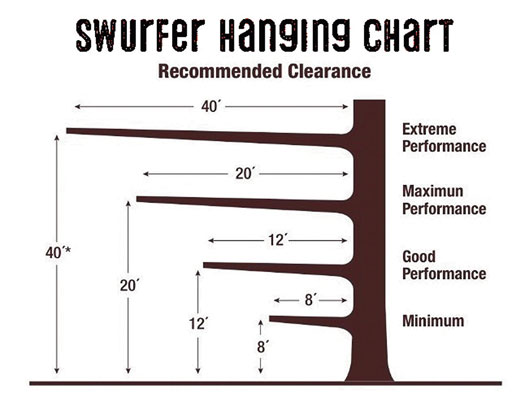 As I mentioned above, the surfboard swing is not just a backyard toy. It offers a great way to exercise too. The Swurfer provides challenge to riders, yet it has a short learning curve due to the adjustable side handles and stable standing surface design.
3. The Swurfer is Built to Last.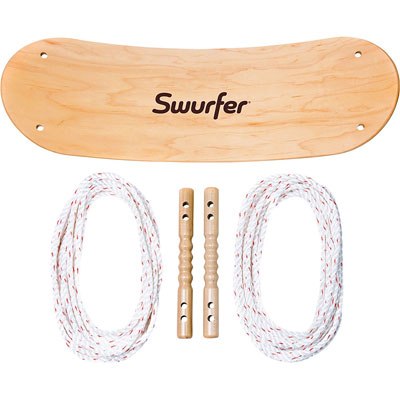 Third, the surfboard swing is well made. The seat is constructed of maple wood, which is really strong. The heavy-duty double-braided rope is mildew-resistant. it also has UV protection.
4. Swing Installation Takes Just Minutes.
Fourth, swing installation is easy. Simply loop the rope over a sturdy tree branch. Everything you need is included in the swurfer package.
Swurfer Specs:
Weight Capacity: 250 lbs
Board Dimensions: 33″ long x 10″ wide
For ages 6+
Rope Length: 80 feet

4.8 rating