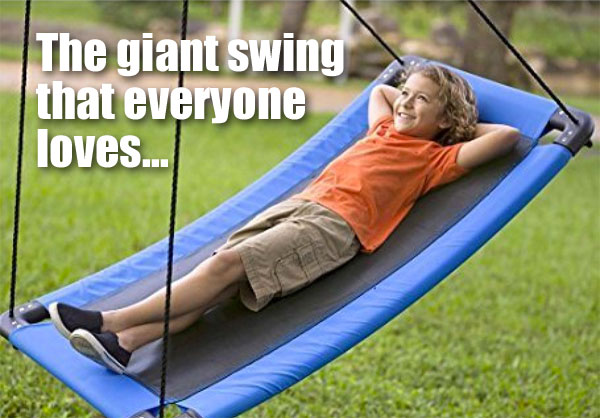 How is the Skycurve Swing Different?
The Skycurve Platform Swing reminds me of a mini hammock. Alternatively, you could think of it as a giant swing seat.
Compared to other tree swings, the Skycurve can hold more kids and support more weight (up to 400 lbs). Kids can even swing in it while laying down.
Why this Giant Platform Swing is a Good Value: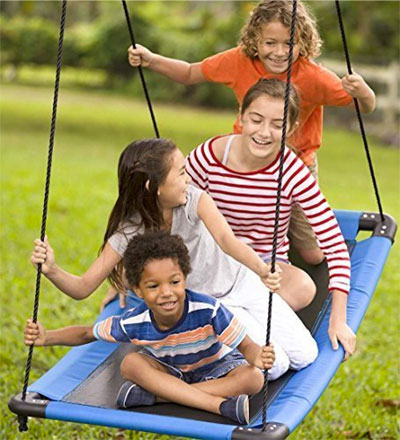 In addition to laying in the platform swing, kids can also sit or stand on it. The larger surface area makes the Skycurve extra versatile, plus kids of all ages (over 5) can use it.
The strong metal frame makes the structure sturdy and long-lasting. At the same time, the weather-proof polyester mat cover (and thick foam padding over the frame) make the seat more comfortable.
Even though this swing costs about $150, you can get many years of use out of it. Teens totally love it. In fact, the spacious seat makes is comfortable for adults too. =)
Skycurve Splatform Swing Specs:
Dimensions: 60″ long 32″ wide
Max Weight Capacity: 400 lbs
Mat Material: Polypropelene (breathable, lets moisture drain through)
Swing Weight: 25 lbs
Color: Blue
For Age 5+
How to Hang the Skycurve Platform Swing: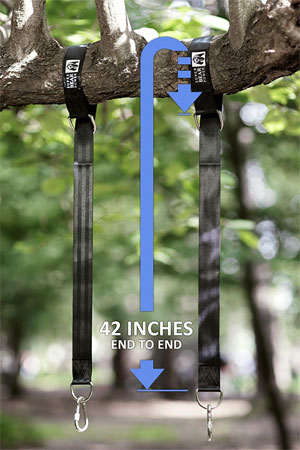 The package includes ropes that measure 67″ from the top of the o-ring to the swing (maximum extension). You can adjust them.
However, the swing does not include hanging hardware. You will need to purchase tree straps separately.
I recommend a set of 42″ straps if you are hanging your swing from a tall tree branch. You can also get a shorter set of straps if you don't need the length.
Although you might be able to set the Skycurve up as a spinning swing, I think HearthSong (the manufacturer) designed it to swing back and forth using two tree swing straps. Due to its larger size, I think two straps would better support the platform than one.