Swinging Monkey Products makes an entire line of really cool swings. They are larger than your typical tree swing, so you can use them in lots of different ways.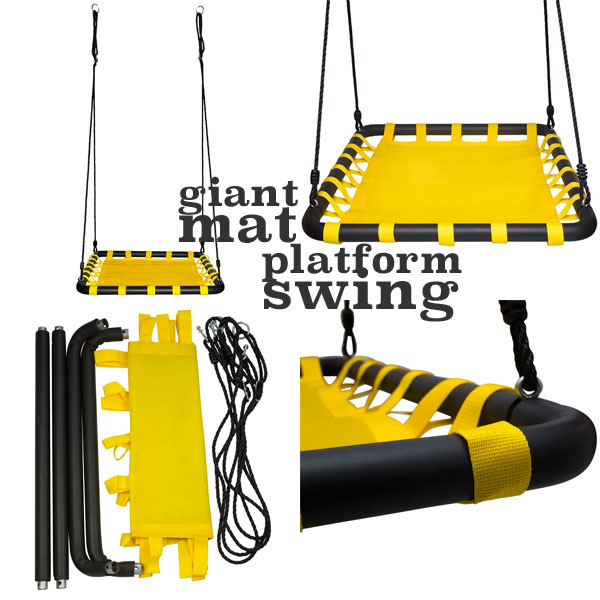 How Big are Platform Swings?
The platform swing measures 40″ long x 30″ wide and can hold up to 250 lbs. Kids can sit on it, stand on it or lay on it. Plus, multiple kids can swing on it at one time. Furthermore, the spacious platform turns into a comfortable place to read a book.
In addition, the versatile design of this swing lets you hang it from one point or two. This means that you can also turn the platform into a spinning swing. Kids will never get bored.
Platform Swing in Action:
The video below shows a homemade platform swing. Although it is not the same as the one from Swinging Monkey, it demonstrates how the design works.
It's Great for Adults Too
Since it's made of heavy duty material and has a steel frame, adults can also use the platform swing. However, you will need to get your kids out of it first. =)
The swing comes as a kit that is easy to put together. Hang it from a tree, a porch overhang or swing set. Some people even use it indoors (just make sure that there's enough space!)
All necessary hardware is included in the package. Therefore, you don't need to spend extra money to buy additional parts in order to use your swing.
On top of that, the straps are easily adjustable. You can customize the height of your platform swing to your needs and your space. Furthermore, you can quickly take it down during the wintertime or during periods where you don't use it. This can extend the life of the fabric too.
Swinging Monkey Products is a family company that designs and manufactures high quality swings and toys. A portion of each sale is donated to local causes.
Swinging Monkey Platform Swing Specs:
Dimensions: 40″ long x 30″ wide, adjustable height
Weight: 6.7 lbs
Weight Capacity: 250 lbs

4.8 rating