The Pony Pal Horse Tire Swing is basically a mix between the traditional rocking horse and a regular tire swing.
The Pony Pal takes a recycled tire and creatively transforms it into a swinging horse. Hang it from a tree, a swing set, porch or even indoors.
Although more expensive than the old tire from your car, this pony swing has numerous advantages.
First of all, it comes pre-assembled. There is no need to materials and spend an afternoon building one yourself. Simply hang the tire swing horse from an existing hook or use a tow rope or simple tree hanging kit.
Secondly, you don't have to worry about your kids getting all dirty from the tire. I love regular old tire swings, but one of their downsides is their ability to leave black marks all over you. The Pony Pal doesn't make a mess, and you still get to enjoy your tire swing.
Third, a horse swing made from a tire is downright cool-looking. People comment on it all the time and ask where to buy one. It is not only fun to use, but you'll actually enjoy looking at it too.
This video shows the actual size of this tire horse swing, and it also explains the special features in detail:
Get it On Sale + Free Shipping
Pony Pal Horse Tire Swing Specs:
Weight Capacity: 175 lbs
Swing Weight: 18 lbs
Dimensions: 53.5″ tall x 27.5″ long x 10.8″ deep
Hardware Resists Rust.
UV-Resistant Nylon Rope Withstands Outdoor Elements.
Package Includes Bandana.
model #MM00136

4.6 rating
What's Wrong with the Pony Pal?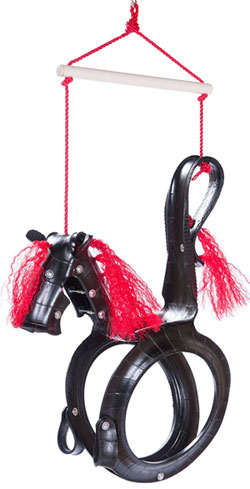 Even though I think that the Pony Pal is cool, it does come with its downsides.
This horse swing is definitely designed for young kids. Despite the fact that it has a weight capacity of 175 lbs, the manufacturer recommends it for ages 3-10 years old.
If you want a backyard tree swing that every family member can use, you may want to look at some other options like the Swurfer or wooden tree swing.
In addition, the pony swing can support only one child at a time. This may pose a problem if you have multiple kids who all want to swing (unless you have multiple swings…). The platform or web swing is better for this.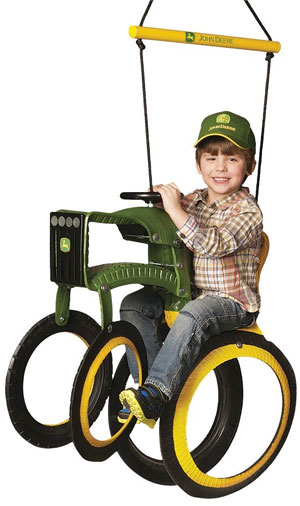 Lastly, the Pony Pal is designed more for girls. However, I've found an alternative for boys. It's the John Deer Tractor Swing.
Similarly, this version supports up to 175 lbs and is made from a recycled tire. You also have the same advantages and disadvantages that I listed above for the Pony Pal.
Environmentally sound–recycled, repurposed and made for durable outdoor fun.