If you want a super comfortable tree swing (with back support), then check out the hammock chair…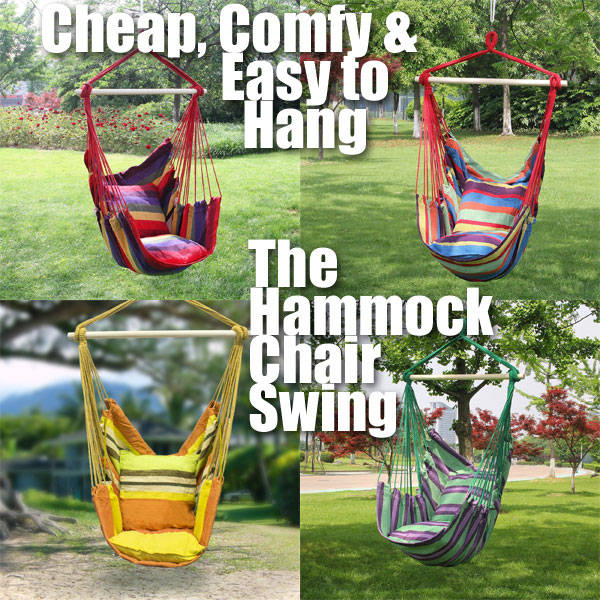 I had my first hammock chair swing when I was a kid, and I swung in it all the time. I never tired of it. These swings caught my eye because they cost less than $50. Plus, they even include bonus cushions and come in a variety of fun resort-style colors.
Hammock chair swings are a great option if you enjoy sitting in hammocks but you don't want something that takes up a lot of space. These swings are really easy to hang too.
By the way, the swing itself only costs about $35. However, if you don't already have hanging hardware, you'll need to get a hanger or strap, which costs about $15-20.
How to Hang Your Hammock Chair Swing:
If you want to hang your hammock chair from a tree, all you'll need is a tree swing hanging strap kit. These straps are designed specifically for outdoor use and for supporting a lot of weight (1,000 lbs). They also have a wider design so that they will not hurt the tree branch.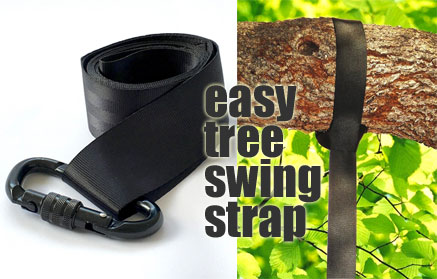 Alternatively. you can hang these hammock chairs indoors or from a beam on your porch. In this case, I'd use hardware like a swing hanger instead of the strap. This is a heavy duty hanger that provides quiet, smooth movement while you swing.
Another cool feature of the hammock chair swing is that you can move it easily from one location to another. If you plan on using it both indoors and outside, you can easily move it from the support hook or strap and carry it to its new location. It weighs less than 5 lbs.
Hammock Chair Swing Specs:
Weight Capacity: 265 lbs
Swing Dimensions: 40″ x 50″ (excluding rope); Wooden Bar 31.5″ long
Cushion Dimensions: 17″ long x 17″ wide
Fabric: Cotton/Polyester, Machine Washable
4 Color Options: blue-yellow, green-purple, red-purple, yellow-orange
Hanging Hardware Not Included (see above for options)

4.3 rating
I know first hand that kids love hammock chairs that swing. They are not just for adults. In fact, you may want to plan ahead and buy more than one so you don't have any arguments over who gets to use the swing. =)
Sorbus Inc. focuses on creating high quality, innovative products at affordable prices.
How to Make Your Own Hammock Chair Swing
I saw this cool tutorial for a DIY Hanging chair. You make it using a blanket, rope and wooden dowel. It probably takes less than an hour to make.
It may not be as economical as buying the pre-made version unless you already have a blanket at home you can use. However, it looks super easy, so I thought I'd share the video.
The drawback of the hammock chair swing is that you can't lay down and sleep in it. That said, you can always sleep sitting up…