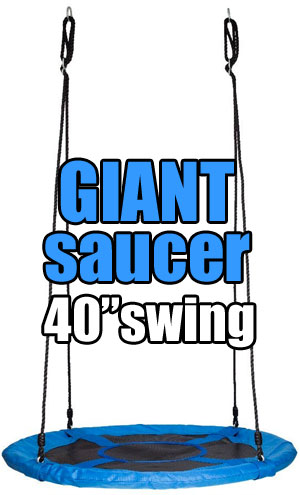 Swinging Monkey's Giant Saucer Swing has a basic, simple design. Yet its larger size, strong construction and low maintenance design make this one of the most popular tree swings.
Kids can sit, stand or lay on the swing. Multiple children can use it at once. You can set it up to swing back and forth, spin or do both. The Giant Saucer provides lots of versatility.
In fact, adults can use this tree swing too!
Plus, the package includes all of the supplies that you need to hang it from your backyard tree in minutes.
That said, if your tree branch is extra high off of the ground, you make want to add a tree hanging kit. This way, you can allow your swing to hang lower to the ground.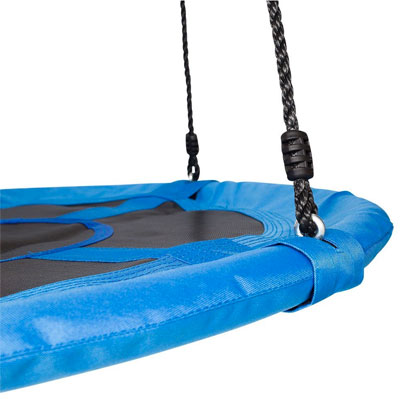 Alternatively, you can hang the Saucer from a swing set, your porch or even indoors. Just allow enough swinging room, since the Saucer does have a larger-sized seat.
Removal is easy too. Whether you need to take your swing down during the winter months or want to move it from one location to another, the process is quick and simple.
This feature makes the Saucer a lot more functional, since you can use it in multiple locations (and therefore more often).
Giant Saucer Swing Specs:
Dimensions: 40″ Diameter, Adjustable Hanging Rope
Weight Capacity: 250 lbs
Weight: 7 lbs
Material: Stainless Steel Frame, 600 Denier Oxford Fabric Cover, Mesh
Color: Blue/Black
For Ages: 5 and Up
Flying Monkey Saucer Swing VS Play Platoon…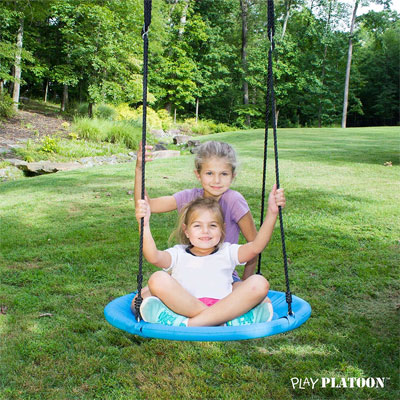 Play Platoon makes another very similar saucer style tree swing in a smaller 30″ size. You can see a picture of it on the right.
Similar to the Flying Monkey swing, this one comes fully assembled and ready to hang. You don't need to buy additional supplies (unless you have special requirements).
The package includes 2 adjustable hanging ropes and 2 carabiners.
Due to it's smaller diameter, this swing costs about $20 less. Other than that, the design, shape, construction, material and even color of this swing are almost identical to the version above.
The video below shows kids playing on the 30″ Saucer. Watch to get more information:
30″ Flying Saucer Tree Swing